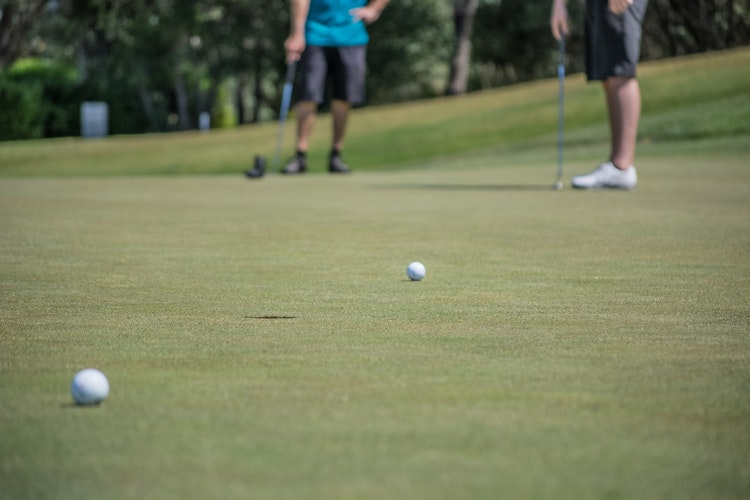 Having recently discussed uphill putts and how to ensure you make the most of the opportunity when they arise, we are now going to take a look at the dreaded downhill putt. Fast downhill putts in-particular cause a lot of anxiety for beginner and amateur golfers.
The sight of the hole well below the ball and over 10 feet away from the ball on a fast green is a nightmare scenario for many. However, today we have some tips to help you deal with fast downhill putts.
The major fear when playing a fast downhill putt is sending the ball beyond the hole and leaving a long second putt. To avoid this, begin by gripping down on the handle of the putter so the thumb is close to the actual shaft of the club.
Doing this will help to slow down your stoke and give you more control over the putter head. Think about moving the putter through at a slow, even pace. You want to produce a soft roll on the ball and gripping down and swinging gently at an even pace will help you do that.
Many players tend to look up early when playing a fast downhill putt. As soon as the putter strikes the ball it is tempting to look up immediately to check it is not travelling too quickly and is going to race beyond the hole.
Doing this often leads to moving your head early and missing the intended line of your putt. If you have a fast downhill putt and there is a break involved, missing the line of the putt could prove very costly. Always keep your head and body still until you have completed the putting stroke.
This brings us on to the final aspect of fast downhill putting, which is the break. If you are faced with a fast downhill putt and there is a break involved, it is a double whammy.
When assessing the impact the break will have on the ball, you must remember on a fast downhill putt the break will be accentuated due to the slow speed you need to hit the ball. In other words, the ball will break a lot more than you think and you must compensate for that by aiming wider.
It will feel strange aiming so far wide of what would be your normal line but if you fail to do so, the ball will swing away from the hole early and you will be left with a very tricky second putt.
If you are a long distance away from the hole when playing a fast downhill putt, think about leaving yourself an easy second putt and sinking the first putt as a bonus.