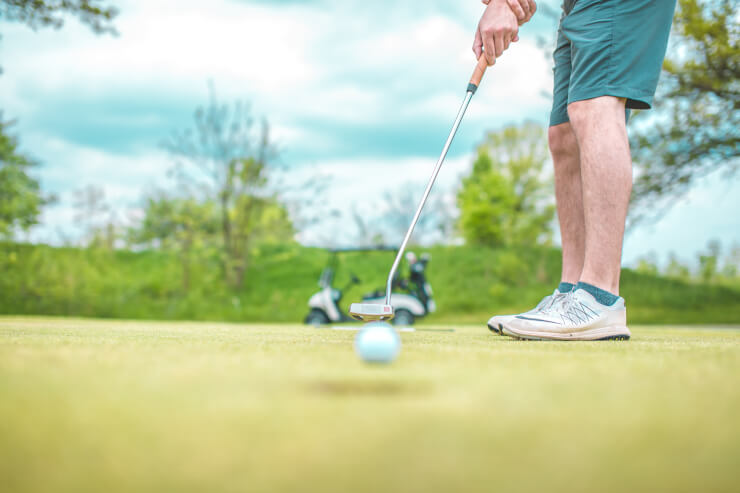 To begin please make sure that you only do this when the course is empty, so I would recommend grabbing a few holes just before sun down so that you don´t annoy anyone that could be on the course.
Worst ball is one of my favourite ways to practice on the course.
It involves playing two balls from the tee and choosing the "worst" of the two shots (always assuming that both balls are in bounds).
From where ever the worst ball lies continue to play the hole from there. Again with two balls and again you will choose the worst of the two balls until you reach the green from there on you will play just the one ball until you complete the hole.
So why is playing the worst ball of two such a great idea?
Well, to begin with it puts added pressure on your practice session that will stand you in good stead for competition rounds where every shot counts.
Secondly, playing the worst ball means that you have to get imaginative with the recovery shots.
Being able to see a recovery shot, and then executing it is a must if you are looking to reduce your scores.
If we take a look at some of the greatest players in the world, Severiano Ballesteros, Sergio Garcia, Phil Mickelson and Tiger Wood, all were exceptional escape artists.
I always s remember the shot Garcia played from in the roots of a large tree up onto the green which he ran after (as he hit the ball with his eyes closed). The ball landed on the green and kept in the hunt for the title.
Without putting yourself into these situations and experiencing them you would have no clue as to how to attempt to play them on the course.
Thirdly, and perhaps the most important reason to practice like this is to learn how to deal with an unwanted or less desirable situation.
I have seen it many times, and experienced it myself. A bad shot, hit into the trees leaving you with an almost impossible shot. Now if you are chasing a score, playing match-play the percentage game is not always the option.
You need to be aggressive, and I know from experience that if you do not have the imagination to "create" a shot then you are going to be "scared" of taking it on.
There is only one way to overcome this "fear" and give yourself the best opportunity to succeed and that is to practice.
This type of practice has to be done on the course because it is just simply not viable to create the same situation on the range.
Playing the worst ball until you reach the green really is a worthwhile exercise, and one that you do not have to do that often, perhaps once a month, but the benefits to your game, confidence and ultimately scores is huge.