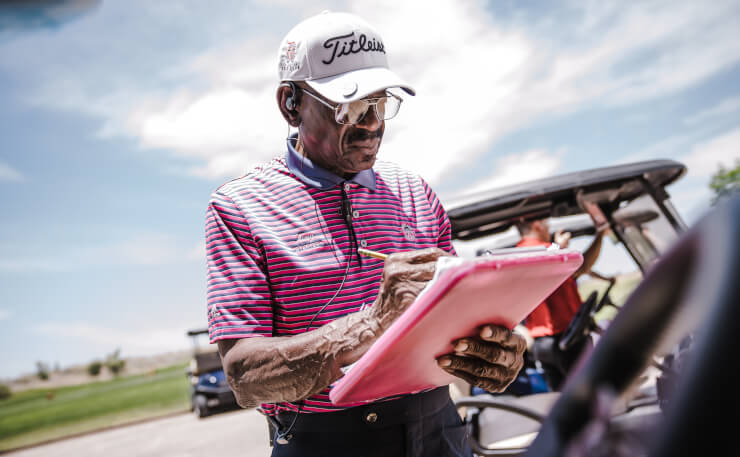 There is so much to learn from the old masters of this game.
But one of the areas of the game that has become almost redundant is the use of a good old fashioned yardage book.
I am sure some of you have probably never even seen a yardage book, but it is something that you should get to know, use and love.
Technology is taking over the world and golf is no different. The internet makes it easier than ever to get a bird´s eye view of a golf course with many courses now presenting a fly-over of the course, which you can watch from the comfort of an arm-chair.
Great as they are and as useful as they can be, there is no replacement for a yardage book, especially one which you add to yourself.
Recently I visited a golf course for the first time and requested a yardage book, the young caddy master behind the desk was somewhat bemused at such a request, responding with "I am sorry we have none left, but you can look at the holes on the course website".
This was not much help to me, I had a tournament coming up and had never set foot on the course, but I took the caddy master´s advice and headed to the bar to connect to the Wi-Fi, but not before asking for a few sheets of paper.
I entered the website, found the fly-over video of each hole and proceeded to draw the holes out on a piece of paper, marking down the most obvious trees, bunkers, water hazards and boulders.
Listening to the commentary I noted down a few things on my diagrams before heading to the course for a practice round. Now I can remember almost every hole, on every course that I have played (in order) but that is after playing it. Watching the fly-over was just not the same.
But luckily with my hand drawn diagrams, the holes "made sense" I could see the best line and what to avoid.
During the round I added in my own notes, left to right sloping fairway or prevailing wind from the left.
But it is on the greens where the old fashioned use of a yardage chart really makes the difference. A video shot from above shows little if any elevation changes. But marking tiers, or ridges that will determine where you want to try and land the ball with your approach can be recorded on your yardage chart.
Being able to determine this helps you "learn" the nuances of the course, vital if you have no experience in playing it.
If you are likely to play the course again in the future a yardage book can remind you of things that you may otherwise had forgotten, a fly-over can´t do this. It is 2 dimensional rather than the living images and notes of a yardage chart.