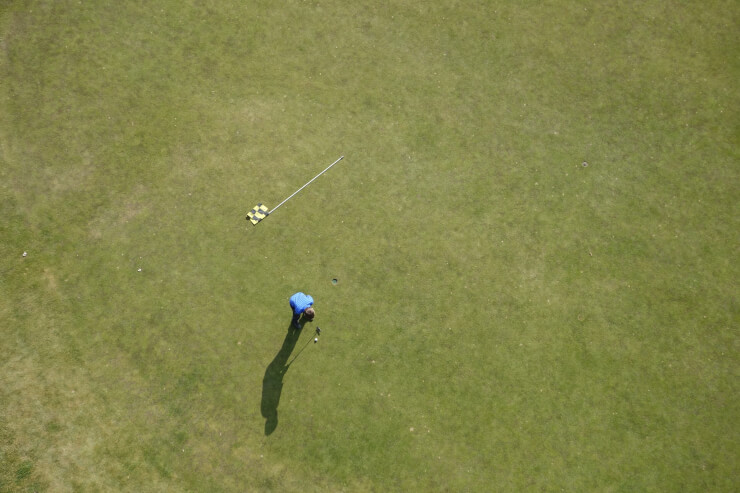 We have all heard the phrase on numerous occasions, yet very few of us can accept a shot that is ugly.
I was teaching a client the other day that has this exact issue, but only when it comes to the driver.
After working together for about a year, the client in question has achieved a good level of golf, averaging around about 90 shot per round (not bad for someone that can only practice / play once a fortnight).
There is a massive mental block preventing this particular client from progressing further and that is their need to see the perfect drive sailing down the fairway.
As normal, I begin each lesson asking how the client has been playing and how they are feeling about their game.
The client responded in their usual manner;
"Great I played last week, shot 4 pars, 4 bogeys and had a disaster on the 7th"
"That´s good, showing promise" I replied, it was quickly followed with qualms over their ability or lack therefore of being able to hit the driver.
"We have to work on the driver, it was the reason why I blew up on the 7th"
"What happened?" I asked
"I hit a horrible low, slicing shot that lacked any distance, I mean it barely made it off the floor!"
"Ok, but did you find the fairway?"
"Yes, but that doesn´t matter, I should be hitting it better than that"
To a point they have an argument, yes they should have hit it better, they are certainly capable of hitting better tee-shots, but they were missing the point.
The ball ended up in the fairway, albeit shorter than normal, but there was no imminent danger, a bogey was still on the cards if they had accepted the ugly tee shot, instead they got upset, angry and lost all concentration.
When this happens on the first hole, it will repeat itself until the client decides not to play with the driver any longer.
They do not want ugly shots, and I can whole heartedly understand that.
But, what is the aim of golf? To get the ball in the hole in a few a number of shots as possible.
So I ask you this;
"Would you rather hit every shot up in the air, receiving praise from your playing partners, only to score 10 over your handicap, 26 points, or play a regular round scattered with ugly shots that somehow do no harm to your score and sign for a 5 under, 41 point winning total to lift the club championship?
I know the answer, but would you not agree that is hypercritical to the reaction that you have to those ugly, yet commercial shots that you have hit?
If you can accept that when you hit an ugly shot that ends up in play and offering a chance to salvage your score you will stand a much better chance of posting a score you are happy with.
Apart from yourself and your playing partners, nobody will know any different as to whether you won playing the golf of your life or hitting ugly shots that worked.
Golf can´t always be beautiful, sometimes you have to grind out a result, but accepting both can be equally successful is a massive step to achieving the beautiful game you desire.