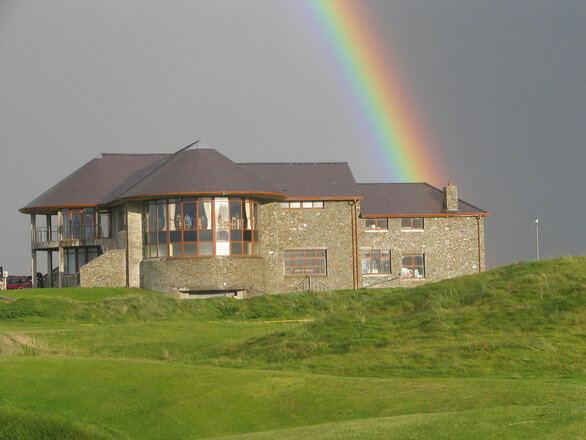 Let's face it, the winter in many European and North American countries can be tough and having the perfect weather to play golf becomes a luxury. However, just because the weather maybe cold and wet, it should not stop you from getting on the golf course.
As many of those who play golf in the UK will testify, there is a good chance of rain at any time of year, so you must be prepared to deal with it when it comes. Here we have some top tips for playing golf in the rain.
Firstly, you must take to the course prepared for wet weather. Check the local weather forecast and if there is a chance of rain, you need to pack your bag accordingly.
This means taking waterproof gear, such as lightweight, breathable waterproof jacket and zippered trousers, which you can take on and off easily. You do not want to take off your spikes every time you need to take your waterproof trousers on or off, so a zippered pair come in very handy for slipping on over your footwear.
You will also want a good, solid umbrella, which can stand up to windy conditions. With rain often comes wind and it's no good having a weak umbrella which will fold as soon as the wind picks up speed.
To keep your clubs dry in the rain, invest in a waterproof bag. If you already own a bag which is not waterproof, get a cover which will protect your clubs when it is raining. The last thing you want is for all your grips to be wet when playing shots.
Try hanging a towel on the frame of your umbrella. You can use this to dry your hands and the grip of your clubs both before and after shots. Placing it on the frame of your umbrella will keep the towel dry but it's wise to carry a couple of spare, dry towels in your bag just in case one gets wet.
Finally, in terms of your preparation, always keep a spare scorecard in your bag. If you are playing a competition and your card becomes unrecognisable because it is so wet, you will be unable to register your score.
When playing golf in the wet conditions, there are a few things to be aware of which will have an impact on your round.
The ball will not run as far along the ground in wet conditions. This means you can take more club than you usually would and the ball is likely to stop dead on approach shots. Putts will be slower, so you must hit them more firmly than you usually would for any given distance.
If you find yourself in the rough, you will have to hit your escape shot more firmly because the wet grass will grab the club more than normal and slow it down.
The last thing to be aware of when playing golf in the rain, is your score will not be as good as usual. This is something you must accept when playing in wet conditions and as an amateur, you will not have a caddie to help you in the rain, so a lower score is inevitable. Accept this before you start and do not get disappointed if you drop shots.