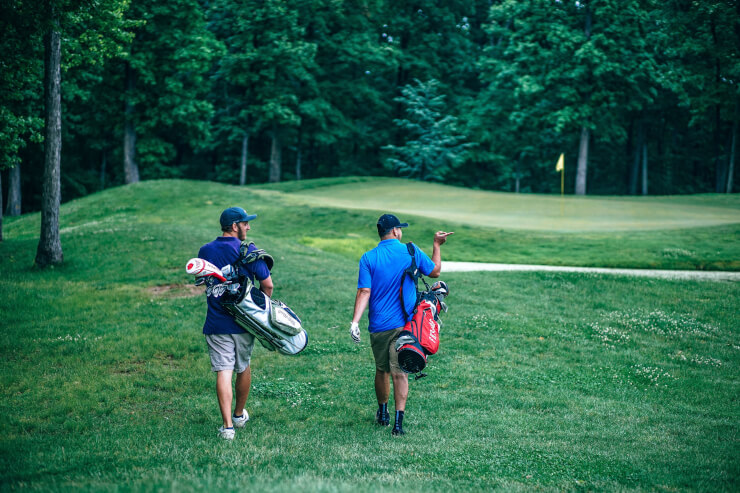 If you are not one of the lucky ones, that green reading comes naturally to, then you need to teach yourself to become a better green reader and help your scores.
Various factors can affect the way a ball will roll or break on a green, and a lot of these factors you learn through experience and playing more regularly.
There are however a few "cheats" that you can use to your advantage:
The General Lie of the Land
Look at the topography of the land that surrounds the green and further afield to see how the land outside of the course boundaries falls. The general lie of the land will be reflected in the way the ball will move on the green. Unless the green is obviously set against the average lie of the land.
Find the Nearest Water
Generally speaking, a ball will always fall towards the nearest accumulation point of water. This is due to how the water (rain water, irrigation water) flows off the green naturally, towards the lowest point. A natural phenomenon.
Learn to Read the Grain of the Green
The way the grass grows, known as the grain of the green, will also have an effect on how the ball will react on the green. If you are putting across the grain, and the break of the ball is heading towards the grain, the break will not be as great. Putting down grain, with the direction of the growth means the ball will be faster.
Take into account the following additional factors:
1 – Grass will tend to grow towards the sun rise.
2 – The color of the green. Playing down grain, the green will appear to have a grayish tint to it, in to the grain it will look lush.
Finally, and perhaps most important is to understand that the center point of the hole also changes, depending on the grain, the speed and the line you have chosen. All putts are straight, so a ball that breaks from left to right will have a hole center point (on the lip of the hole) that is to the left side of the hole.
Putting to this point instead of the "center" of the hole as you see it will increase the chance of holing the putt with the size of the entry being larger, giving you more space for the ball to drop into the hole.