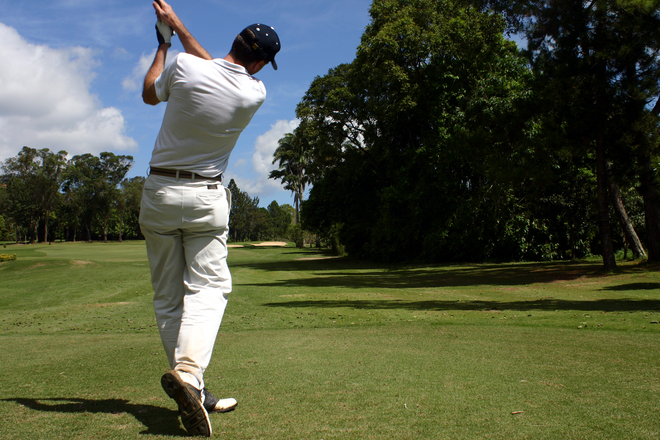 One of the aspects of playing golf which many amateur and beginner players forget to consider is what to wear when on the course.
So much attention is given to obtaining the best playing equipment such as clubs and balls, that golf attire is often a second thought. However, what you wear on the golf course is not only important in terms of the being accepted at the golf club, it can also have an impact on how well you play.
Today, we have some great tips on what you can wear on the golf course.
Different golf clubs have different rules when it comes to what you should be wearing to play on their course. Some have very strict rules whereas others have become more relaxed in recent years, to tempt more people to their golf course.
For both male and female players, chino, khakis or capri style trousers are the safest bet. They look smart and are comfortable to wear when playing golf. This is important because if you feel uncomfortable in what you are wearing, chances are you are not going to play very well.
Trousers such as jeans and combat pants, with big pockets on the sides are frowned upon. These would not be very comfortable to wear anyway, so leave them for casual daily use and do not bring them to the golf course.
What to wear on the top half of the body offers more choice but the safest option is a polo or collared shirt. Almost every golf club will allow you to play in a polo shirt and if the weather is too cold for short sleeves, you could always wear a loose knitted jumper or cardigan over the top.
If the weather is warm and you cannot wear trousers due to the heat, shorts are an option. However, for men these should be tailored shorts and quite long in length, nothing like what you wear for a day out to the beach. Some golf clubs will also require you to wear long socks with shorts, so only the knee is showing. Some clubs will allow short socks but only if they are white. So, if you are planning on wearing shorts, it is best to check the rules with your golf club before you leave.
Female golfers can wear shorts but also have the option of wearing a skirt. It is acceptable to wear tights or leggings under a tennis style skirt but if the weather is too warm for tights, wear a longer skirt. As for the length of skirt, most golf courses like it to pass your fingertips when standing up straight.
In terms of footwear, golf shoes are usually required, with either plastic or metal spikes. Some more lenient golf clubs may allow trainers but many golf shoes look like trainers anyway and they offer more stability when playing.
Other items of clothing to consider when playing golf include sunglasses and a hat. A hat should not have any offensive slogans or logos printed on it.
Always check the weather forecast before you leave and if it looks like rain pack a light waterproof jacket and trousers. In fact, if they are compact, you can always keep them in your bag as you never know when you might need them!