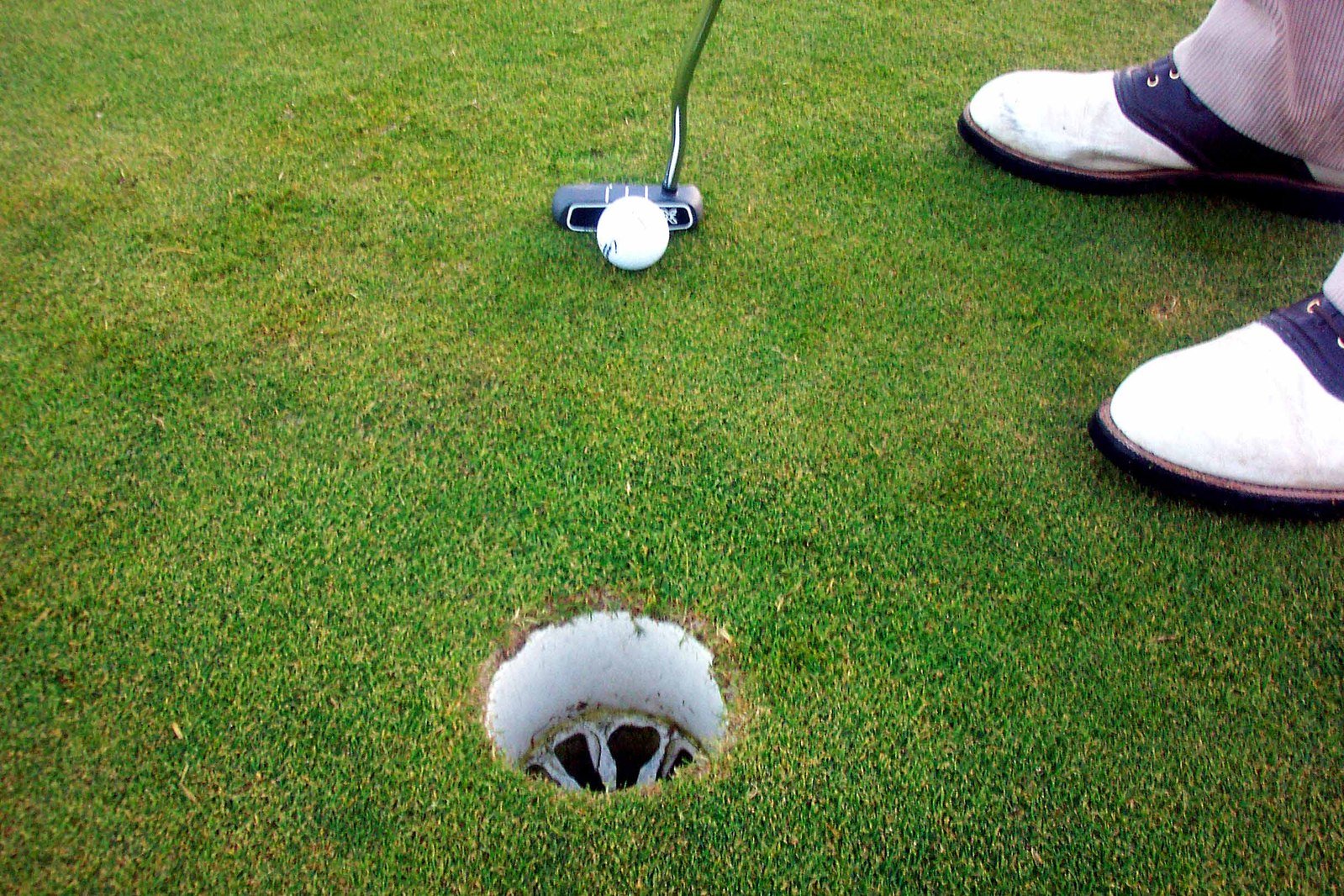 The most common form of playing golf is to try and get around the course in as few shots as possible.  This means playing each hole using the par score provided and marking the number of shots taken on each hole.  Each shot counts towards your score.
However, there are various ways to play golf and one version is known as match play.
Match play involves playing an opponent directly on each hole, with the winner of that hole adding a point to their total.  A good example of match play golf in action is the Ryder Cup.  If Player A was to finish the hole in three shots and Player B four shots, Player A would win the hole and go 1 up.
If Player A was to win the next two holes, that player would move to 3 up.  If Player B was to take the following three holes, the players would be even and so on until the 18th hole or one player builds a big enough lead, without enough holes remaining to be beaten.
When playing match play, it is wise to keep an eye on what your opponent is doing.  In stroke play golf, you would concentrate fully on the course but in match play, you need to better the score of your opponent on each hole to win.
So, when they tee off, you want to look where their ball has finished.  If they have hit a poor shot out of bounds and need to play again or take a drop, why would you take any risks with your shot?  Get the ball in play because you know a par will likely be good enough to win the hole.
Control your golf in terms of what you need to do rather than always going for the lowest score on each hole.
If you are playing first off the tee, simply getting your ball on the fairway will place pressure on your opponent to do the same.  If you get your second shot on the green, your opponent will feel they have to at least match you to have any chance of winning the hole.  Holing your putt first and forcing your opponent to do the same keeps the pressure on and is tiring mentally, which can lead to mistakes.
If you are playing well, having the first shot and making your putt first will always increase the likelihood of a mistake from your opponent in match play.
Finally, when conceding putts, mix it up a little.  Allow them to pick up when the putt is short and flat but if the next one has a break, make them putt.  This places doubt in their mind and if you have conceded the last two putts, make them play the third.  This can catch players off guard and lead to an unexpected miss.